Mix Magazine, June 2011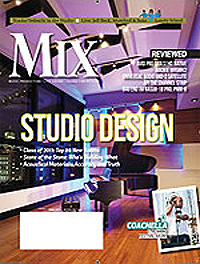 Red Door Studio (Murfreesboro, Tenn.) Date Opened: January 2011 Designer: studio bau:ton Acoustician: Carl Tatz Design Console: Yamaha DM2000 Monitors: CTD Dual PhantomFocus System: pair of custom TEC:ton Engineering mains with double 15-inch TAD woofers and Sony compression drivers; multiple Bryston 7B amps; Event Opal near-fields At-a-Glance: Middle Tennessee State University professor and Grammy-winning producer/engineer John Merchant's new space houses a large control room where he will teach advanced master classes. Other features include massive bass trappings in walls and soffits, diffusive stone-front monitor wall and louvered monitor ceiling.
---
The Blue Grotto  (Nashville) Date Opened: April 2011 Designer:/Acoustician: Carl Tatz Design DAW: Pro Tools HD6 Monitors: Carl Tatz Design Dual PhantomFocus System 4, Dynaudio M3 and M1s, and Bryston amps At-a-Glance: Built for South African engineer/producer Sean Spence as his new personal studio. Windows were not possible in the control room, so CTD mirrored acoustic lens modules were installed to widen the room acoustically and visually.