Prosound News, February 2014
by Jacques Sonyieux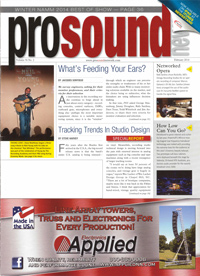 A few years ago, audio engineer Sean Spence wanted to settle down and build a studio in Brentwood, Tennessee, roughly 20 minutes from downtown Nashville. Sounds simple enough. But Sean was a South African and when his U.S. visa was denied in the midst of his plans, he was asked to leave the country. With his dream of opening a studio still very much in tact and figuring the immigration issue would be sorted out in a few weeks, he asked well-known acoustician Carl Tatz, who he had met by chance through a local realtor, to carry out the studio design while he was out of town.
His brief to Tatz was that he needed the studio to accommodate both music and post production clients, given the variety of potential work in and around Nashville. "My wife is also an audio engineer and we needed to do both music and film work," he says. "When we were in South Africa, post-production was our bread and butter. We had done a lot of audio for television commercials, pushing out as many as 30 commercials in a day."
Unfortunately, Spence was met with many more immigration struggles than he had anticipated and ultimately had to manage the project from a distance of more than 8,000 miles away: "Initially I was only supposed to be out of the country for six weeks, and this turned out to be two years!" Tatz managed every aspect of the on-site design and construction while the boss was out of town.
"The big thing was that they trusted me to build their studio unchaperoned," recalls Tatz. "We sent email, Skyped, all of those things to keep the process moving," adds Spence.
Situated in the basement of his home in a very quiet residential neighborhood surrounded by pine trees, Blue Grotto Sound features a fully isolated control room as well as a generously sized live room suitable for recording a rock band or a string ensemble. While the studio features an SSL Nucleus controller, plenty of outboard gear and a few nice microphones, Spence says the "high value" component of the studio is the PhantomFocus™ System monitoring from Carl Tatz Design. The system is made complete with a custom-designed floating ceiling, acoustic treatment and Dynaudio M1 and M3 monitors.
"Carl did a great job, and with the PhantomFocus System, I know what I am hearing and can trust it," says Spence. "Knowing that I don't have to fight with the monitors and that my mixes will translate well is a huge thing for me."
Spence says that Tatz was meticulous in establishing room dimensions and layout well before any gear entered the facility: "He set up everything symmetrically, so he knows where the room modes are. From there, he can tune the monitoring around that. The monitors are set up to within a fraction of an inch positioning; everything is phase-aligned, so everything sounds really incredible on the M1s and M3s-particularly the bottom end," he says.
Spending so much time on the monitoring has had a momentous effect on Spence, changing the way he thinks about producing and arranging: "It's not about hyping the song anymore, since the monitoring is so accurate," observes Spence. "Everything that sounds great in here will sound great everywhere else. Here, I can hear every little derail and know exactly where I am."
The 16-fader Nucleus is "perfect for us," explains Spence. "The first thing was the name-SSL brings a lot of confidence among clients. The controller feels solid and superior to other devices and it integrates well with Pro Tools and Nuendo." In addition to the two SSL microphone preamplifiers integrated into the Nucleus, Blue Grotto has plenty of outboard options clients can access, including a Great River MP-2NV, a four-channel API 3124+, a Universal Audio 4-710d and a pair of Universal Audio 1176 limiters. For conversion, Spence relies on a 16-channel Apogee Symphony in addition to a Digidesign 192 interface.
Now that the challenge of finishing the room is complete, Blue Grotto Sound has been very busy with both music and post projects. One of the studio's recent projects was mixing for Scott Coner, an indie/country style artist currently signed to the Sony Red label. "We did vocals and overdubs on most of the tracks and then mixed it all in a very short space of time-it came out really well," says Spence. "We are finally discovering the friendliness of the people in Nashville and we have a bunch of tracking sessions coming up for albums, which we are very excited about," he adds.
Since completing construction on the studio two years ago, Spence says that Tatz still visits the room from time to rime: "Carl comes back to show people my studio," he says. "He came down here last Saturday to re-tune the system-now it sounds even better than before." For now, Blue Grotto Sound is exactly where Spence wants it to be as it continues to draw more work from inside Nashville and beyond. "We are thrilled with where the room is at now," he says. "We would love to get a few more microphones, preamps and things like that, but that is the great quest of every engineer."
Jacques Sonyieux is a devout explorer of recording studios and the artists that inhabit them. Please send any tips or feedback to Jacques at: jacquessonyieux@gmail.com